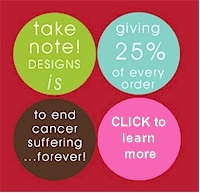 Take Note Designs will donate 25% of each order to 'Giving for a Cure' which is a non-profit organization specifically aimed at easing the suffering which accompanies each and every cancer diagnosis. Not only will the organization be donating money for cancer research of all types, but specifically helping cancer patients - whether it is providing meals for those without a support system, providing transportation to and from chemo, paying for a house cleaning service for those to sick to take on this task, even paying a utility bill if need be.

Go to take note! designs Main Page
Go to More Than Paper... Home Page
Copyright © take note! designs
Images used with permission.