Personalized Children's Books
Favorite Friends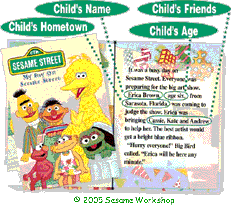 Watch a child's eyes light up as they learn the story is about them!
Stories incorporate child's name and hometown, names of child's friends/relatives
and include a personal message from you! 
Books have washable hard covers.
Price: $14.95 each

Buy 6 or more personalized books, and get 15% off the whole book order!
Buy any 2 personalized books and get a Santa Letter FREE!
Est. Delivery: 3-5 working days for production plus shipping time from NY via U.S. priority mail
Click on an image to see book descriptions and to order online!!
Home > Personalized Books - Favorite Friends