Design-her Gals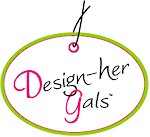 As seen on NBC's TODAY Show and on the Martha Stewart Show!
Click on the image below to custom design your very own Diva by Design-her Gals!
You get to choose hairstyle, hair color, eye color, skin tone, outfits, accessories
and you get to see it all on-line LIVE!
Then you can choose to print your diva on invitations, stationery, stickers, calling cards, etc.
Please note that items purchased through the link below will be a separate order with separate shipping charges and
your credit card charge will be from our affiliate company, not More Than Paper...
10% off all proceeds from Design-her Gals' site benefit the Gal-to-Gal Foundation,
an organization which supports Stage 4 breast cancer patients.