Character Head Choices
for FULL COLOR Pen At Hand Products

SPECIAL THINGS TO NOTE:
Please choose your heads based on HAIR STYLE! We will size heads/bodies according to the ages you provide.

Characters Heads below are shown using LIGHT skin.
Characters are also available with MEDIUM or DARK skin (see Special Features below).

Bangs can be added or removed from any character FREE OF CHARGE

Additional Special Features FREE OF CHARGE: Asian eyes, facial hair, glasses, kipot.

Heads below are shown using BLACK hair. You can also choose your own HAIR COLOR at NO ADDITIONAL FEE (see below for examples).
Page: Character Heads | Pets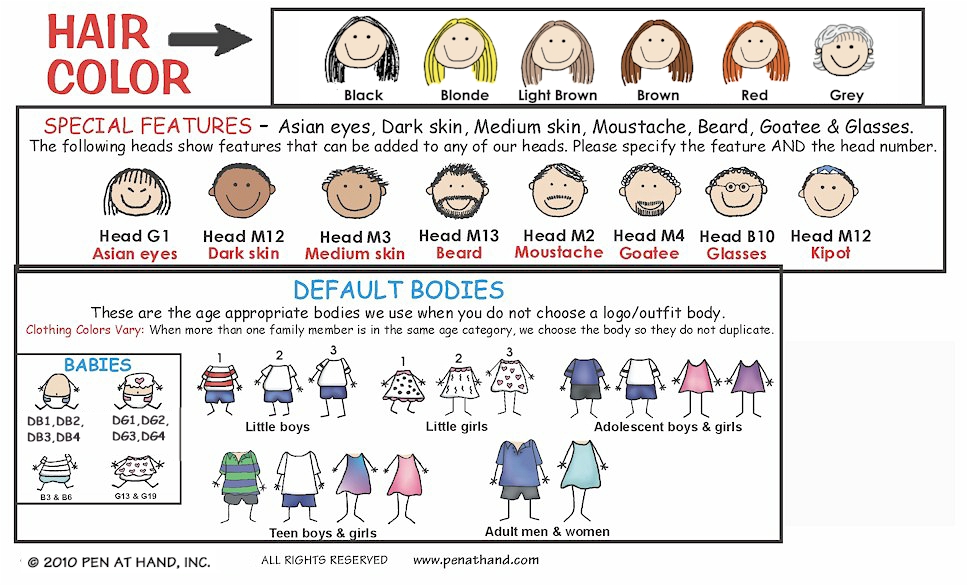 Page: Character Heads | Pets
Copyright © Pen at Hand/Ronnie Horowitz
Images used with permission.
No part of this HTML nor graphic images may be utilized, reproduced, stored in a retrieval system, or transmitted in any form or by any means -- electronic, mechanical, photocopying, recording or otherwise -- without the written permission of the copyright owner.